A Christmas Carol
by Charles Dickens
19 December 2006 to 12 January 2007
The Shaw Theatre
It's Christmas Eve 1843 and Jacob Marley visits Ebeneezer Scrooge. There's only one problem. Marley is dead. Join Scrooge on his magical journey of self realisation and redemption.
Faithful to Dickens' text, the world of Tiny Tim, the Ghosts and all Dickens' other marvellous characters is brought to life with songs and life size puppets.
Dickens' story helped define the image of a Victorian Christmas. Let this new adaptation make Christmas special for you.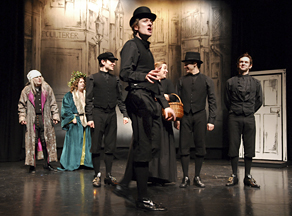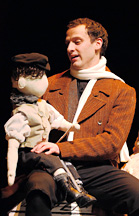 Production stills copyright © Asa Goldschmied
Reviews
'It is practically impossible to destroy Dickens' tale of the miser visited by three ghosts who show him the error of his ways. Thankfully Chris Pickles' adaptation relies heavily on the original text and much of the rich dialogue remains intact. The cast of eight performers play all the roles supplemented by a selection of puppets of various size and form. Ian Bass makes for a fun Fred, with a collection of adult size children at his feet and a bouncing wife brought to life by Kali Peacock. Dermot Canavan is full of Christmas spirit as the delightful Fezziwig and Henry Everett is perfectly cast as Ebeneezer, scaring the children in the audience more than some of the ghosts.'
The Stage
'The cast of eight narrates and sometimes sings the story of the miserly Scrooge and his path to redemption with great energy, each taking on a variety of the weird and wonderful characters that people the book … Henry Everett excells as Scrooge … The cast's exuberance is catching … while the ghosts of Christmas Past and Present are among the many big surprises on offer.'
Camden New Journal
'Maureen Freedman's witty, black-and-white cut-out designs are soon wheeled on to liven things up and gradually the famous tale of redemption takes its hold … the spirit of the past, and the huge and sinister spirit of the future, plus the presence of puppets elsewhere, are what lifts this show out of the ordinary.'
Time Out
'A varied bunch of puppets – from life-size papier mache creatures to two-dimensional bits of floating scenery, all bring the story to life. Tiny Tim is particularly poignant as the blank-faced puppet whose disembodied voice forever asks when he'll grow big … The company work well as an ensemble, boosting their fresh interpretation in a production that is largely faithful to the original text … Pickles is helped by Paul Knight's songs and Maureen Freedman's very pretty design, suggesting that the whole drama leapt fully-fledged from the beautiful illustrations Dickens ensured accompanied the story's first publication.'
Ham & High
Cast
Ian Bass
Dermot Canavan
Nicholas Chambers
Henry Everett
Nigel Lister
Richard Mark
Kali Peacock
Michael Rouse
Adapted & Directed by
Chris Pickles
Composer & Musical Supervisor
Paul Knight
Associate Director
Ken Bentley
Set and Puppet Design
Maureen Freedman
Costume Design
Adrian Lillie
Lighting Design
Derek Carlyle
Musical Director
Richard Mark
Choreography
Michael Rouse
Production Manager
Derek Carlyle
Deputy Stage Manager
Jo Strickland
Assistant Stage Manager
Amber Elliott
Producer
Crispin Harris
Associate Producer
Jo Mackey
Assistant to the Producer
Ken Bentley
Marketing Consultant
David Shepherd
Press
Impressive PR
Production Photography
Asa Goldschmied
Puppets made by
Antoinette Brown
Clio Brown
Janine Cooper
Mahni Dare
Elves n Elements
Maureen Freedman
Bonita Lubbe
Matthew Richards
Barry Saltman
Tinka Slavicek
Roxane Steen
Tarryn Thomson
Elizabeth Thompson