Ludwig's Van
written and performed by Stephen Guy Daltry
Hidden Pearl are currently taking tour bookings for this show
For more information contact the production office
Ludwig's Van is a one man comedy show about classical music, by the versatile actor, composer and pianist Stephen Guy Daltry.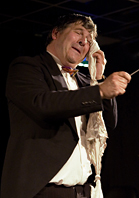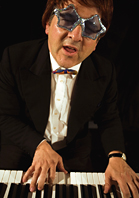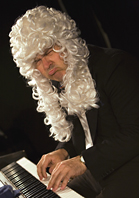 Production stills copyright © Kfir Bolotin
Reviews
'There's something quite touching about watching a middle aged Oliver Hardy type man acting out eccentric tales from great composers and from his own musical life. As well as collating these two sentiments, Daltry also manages to squeeze in sketches a la Mr Bean and BBC commentators as well as pasting in his own comical composition. No one gets off lightly, least of all Daltry himself. One is beset by uncertainty as to whether his lounge bar personality surrenders to the dejected genius type like many bygone composers, or if he is just acting. Either way, Daltry delivers quirkiness in buckets. After getting over his histrionics, there is impish warmth to the show that packs a punch with great variety and bizarre humour.'
Three Weeks (4/5 stars)
'Following my visit one evening recently to a beautiful old church deep in east Sussex, I defy anyone not to enjoy the show I saw prior to its Edinburgh run at Zoo Southside. Ludvig's Van is a wonderful, original and poignant one-man show written and performed by Stephen Guy Daltry, sensitively directed by Christine Way.
Stephen, a highly accomplished actor, theatre/film composer and director, here fills the stage with his ingenious, comedic and touching musical insights and real life tales of his own musical life and achievements to date, sprinkled with gems of portrayals of some of the greatest composers covering the last few centuries – Mozart, Satie, Bach, Beethoven (not forgetting his cleaning lady), and Rimsky Korsakov, to name a few – and comic songs which would make Laurel and Hardy beam. Stephen's talent at the piano speaks for itself.
His show is a magical present, the contents of which you want to wrap and unwrap over and over again. At the close, this loveable and larger than life character, whose unmistakable voice and persona makes us go wobbly at the knees, graces the stage and the piano keys. Hoffnung, Thurber – homage to you all. Music lovers everywhere, go see it and bring your piano teacher.'
Ana-Luisa de Cavilla
Rogues and Vagabonds Theatre Website
'Stephen Guy Daltry performs an amusing autobiography of his musical development from his boyhood years growing up in Cumbria to his present situations as a working musician and composer. He is an accomplished musician and his show pays tribute to those composers who have had a major influence in his life – Bach, Beethoven naturally, Satie to name just a few examples. He lightens the proceedings with song and witty impersonations. He is most comfortable when at the piano where his talent shines through … I would guess that those who have some knowledge of classical music would find the humour more understandable. For those who don't, most of the musical extracts he plays are well known. An Interesting and charming performance.'
www.one4review.com
'A great fun, silly, show, packed with slapstick and bizarre trivia about composers. Stephen takes us on his own journey as a composer via the works of his influences (the pieces demonstrating his early plagarism are great) via a whole load of wigs, accents and skits. Irreverent! – and the humour was halfway between Mr Bean and cartoonist Gerard Hoffnung. Recommended for anyone with even a passing knowledge of classical music.'
Steve Lawson
Your Voice: Edinburgh Festival Fringe Website (4 stars)
Write a Review
Directed by
Christine Way