Thark
by Ben Travers
2–21 September 2008
Upstairs at the Gatehouse
Hidden Pearl's critically acclaimed production of Ben Travers' classic farce
Sir Hector Benbow may have an eye for the ladies but he makes a mistake when he sells the manor of Thark to the formidable Mrs Frush. She thinks it's haunted and Sir Hector's accident-prone nephew, Ronnie, vows to stay the night there to prove she is wrong.
The follow up to Travers' smash hit Rookery Nook, Thark contains many of the classic elements of British Farce in one play.
Ghosts, girls and the mistakes of the night abound in Hidden Pearl's goosebump gagathon.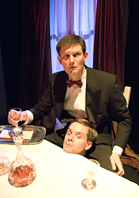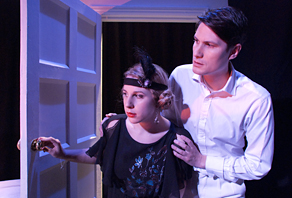 Production stills copyright © Ken Bentley
Reviews
'With a nice mix of pleasurably predictable gags and surreal comic flourishes that prompt fits of giggles from an audience caught unawares, Crispin Harris's production involves a young cast who nail their characters' vocal and facial tics from the off. The slapstick stunts are sharp, attention is wittily diverted from a set change by the cast dancing a cross between the Charleston and the Monster Mash and (a real rarity, this) the doors of the budget set actually stand up to the repetitive slamming. Paul Lincoln is particularly good as the highly strung nephew. I've certainly never seen a farce produced with this unusual combination of youthful charm and attention to detail.'
Bella Todd
Time Out
Sir Hector Benbow
Jonathan Sanger
Lady Benbow
Desiree Nocher
Kitty Stratton
Natalie Eve
Ronald Gamble
Paul Lincoln
Hook
Charlie Woodcock
Warner/Jones
Trisha Champaneri
Cherry Buck
Natalie Lucas
Mrs Frush
Hannah Harford
Lionel Frush
Greg Cheverall
Whittle
Charles Pickersgill
Directed by
Crispin Harris
Assistant Director
Ken Bentley
Lighting Designer
Will Evans
Production Manager
Debbie Waters
Technical Operator
Phoebe Tait
Construction
Richard Latham